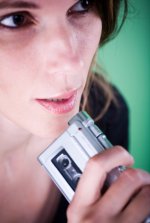 In today's fast-paced global environment, maintaining productivity in the face of increased demands and perpetual change can be a challenging (or even daunting) task. Many professionals in the business world find it difficult to keep up with the constantly increasing work flow required in order to remain competitive in online commerce. In many cases, business executives and other professionals can enhance their personal productivity through the use of dictation services, saving time and providing ready access to necessary information in a convenient, easy-to-read form. Here are four ways to get the most out of dictation services.
Focus on the topic. While a rambling, diary-style record of each day's events and meetings may have literary appeal, it is not usually an effective way to improve overall productivity. By keeping their thoughts under control and on topic during each call-in or digitally recorded session, business professionals can improve the quality of the transcripts produced by dictation services and ensure the utility of the end result.
Keep them separated. Initiating different sessions for each important recorded event can help keep various projects separate and avoid needless confusion or accidental destruction of important recordings. Adding a brief project description heading for reference at the beginning of the session can help avoid confusion and ensure correct formatting and presentation when using professional dictation services.
Categorize. Creating specific categories for the various types of transcripts produced can be extremely useful in filing and retrieving these materials. This can save valuable time and ensure that the information can be located quickly when needed. Incorporating categories can be even more important when creating transcripts that will appear on the corporate website; proper metatags can ensure that visitors to the site can quickly and conveniently locate the information they need in both video and text formats.
Be selective. Shorter documents may not require the use of a dictation service; by using these services primarily for longer, more complicated documents and reports, most small businesses can save money and focus their financial efforts more effectively. A good rule of thumb is to dictate documents that would otherwise take more than ten minutes to write; the exception to this is for small business administrators with no in-house clerical staff to produce professional-level documents. In these cases, it's usually advisable to use a dictation service for all external correspondence in order to project the right image.
Many executives, administrators and business professionals can save time and improve their overall productivity by using a dictation service for most of their professional documents. The accurate and complete results produced by dictation services can also serve to provide easier access to business information, allowing companies to better plan for future success.