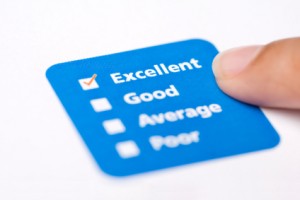 Transcribing audio to text is a challenging task that requires specialized skills in order to produce the best results. Freelance transcription providers may offer lower rates for transcription, but typically lack the depth of experience, fluency and typing proficiency necessary to deliver a superior product. Choosing a professional firm rather than relying on unproven individuals offering freelance transcription services can help small businesses avoid several significant issues and ensure high quality results.
Here are five reasons a professional transcription service is always a better choice than a freelance transcriptionist.
Accuracy and speed. The single most important element of a transcript is its accuracy. Freelance transcription companies often fail to produce precise results, presenting difficulties for online businesses and sometimes requiring the entire process to be repeated in order to obtain usable transcripts. Additionally, professional transcriptionists can often produce faster turnaround times for their customers.
Punctuation. One of the most common mistakes in transcribing audio to text is in the misuse of punctuation. Freelance transcriptionists often fail in this regard by either inserting unnecessary punctuation, which presents an unprofessional appearance, or failing to add necessary punctuation, which can significantly affect the meaning of phrases within a transcript. Retaining the original intent of the material is essential for business and professional communications. Unintended alterations in meaning can create misunderstandings that can prove damaging to the company's reputation and its operations as well.
Fluency. In order to provide the best possible results, a comprehensive knowledge of both written and spoken language including idiom, use of metaphor and common slang is required. Individuals advertising freelance transcription services may lack fluency in English; this can lead to mistakes that more experienced transcriptionists can easily avoid.
Homonyms and homophones. These sound-alike and, in some cases, look-alike words can present major difficulties for inexperienced freelance transcriptionists. Professional transcriptionists can avoid confusing these words and ensure that the correct meaning is conveyed in the final transcript.
Grammar. One important aspect of audio transcription is the grammatical structure of the final transcripts. Individuals offering freelance transcription services often overlook this essential element and can produce results that do not adhere to style and grammar rules and may present a sloppy, unprofessional appearance to the target audience.
Most professional transcription companies offer a wide range of services and can produce results more quickly and accurately than freelance transcriptionists who may not be able to transcribe audio files into to clear, coherent text. By enlisting the services of professionals in the field, companies can greatly enhance the quality of their transcription results.