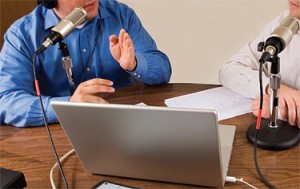 Podcasts can add a personal element to corporate blogs and websites, while allowing individuals to express their views more naturally and easily than other methods of communication. In order to provide the best possible access to this material, however, an accurate and complete transcript of the podcast should also be provided for visitors to the site. Podcast transcription is an essential element of the process and can provide significant online visibility benefits for individuals and companies alike.  Here are six reasons you absolutely need to have your podcasts transcribed:
Search engine access. Podcast transcription allows search engines to index the content of your podcasts. Without accurate and comprehensive transcripts, your podcasts are essentially invisible to search engines and cannot contribute to higher rankings. A professionally prepared and formatted transcript can not only offer greater access to listeners but can boost the website's overall visibility and positioning online.
Accounting for tastes. Many people retain information better when they read it, rather than hear it. Additionally, some prefer the higher degree of instant accessibility of visual materials over audio files. Podcast transcription allows each visitor to the site to access the information in the way he or she most prefers.
Foreign audiences. A clear, accurate transcript is of huge benefit to individuals who do not speak English as a first language. By offering materials in both audio and visual formats, podcasters can engage those who may not be able to understand the podcast due to the speed of verbal delivery or an imperfect knowledge of spoken English.
Access for the hearing impaired. Deaf and hearing impaired individuals can enjoy greater access to information when a podcast transcript is available alongside the original podcast. This offers greater accessibility to those who cannot easily hear the messages contained in the podcast and can open up a wider audience for the podcast and the website associated with it.
Notable quotes. Bloggers can more easily obtain and use quotes from a podcast transcript than they can from a podcast itself (because the blogger would need to spend time transcribing). This can increase exposure for the podcast and can improve the chances that others will link back to the material and help to drive traffic to the site.
Access anywhere. Visitors to the site can access the information contained in the podcast anywhere, even in situations in which listening to an audio podcast would be awkward or inappropriate (e.g. waiting in line). This can allow even greater utility to guests of the site and provide an incentive for return visits.
An accurate, professionally produced podcast transcript can offer major advantages to podcasters. Offering both text and audio versions of content ensures the widest possible audience and the most satisfactory results for visitors to the podcast's site. By adding podcast transcripts, webmasters can increase their sites' visibility and expand their audiences, helping them get the most out of their podcasting experience.