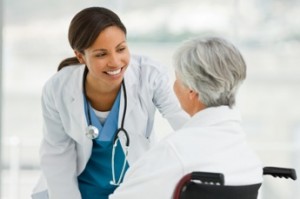 Medical transcription is an essential part of the modern health care industry. Because these transcripts are often the basis for later decisions regarding the care and treatment of patients, accuracy and completeness are crucial elements of the medical transcription process. The wrong word or misheard term can make a significant difference in the health and well-being of patients and could even prove life-threatening in some instances; as a result, it is vital for health care organizations to utilize reputable and accurate medical transcription companies to handle their doctors' audio to text needs.
Experience
When choosing among medical transcription companies, health care institutions and medical personnel should take the experience of the particular company into account. Because these transcription jobs pay relatively well and demand is high among medical institutions for these advanced services, a number of individuals have begun offering freelance medical transcription services. In many cases, these transcriptionists lack the depth of experience needed to achieve the necessary levels of accuracy and precision. As a result, the transcripts produced by these individuals may be difficult to decipher or, worse yet, entirely wrong. Established medical transcription companies can offer greater accuracy and improved results at little or no additional cost, making them a wise choice for health care institutions.
Turnaround time
Professional medical transcription companies can offer very fast turnaround times on medical transcripts. This is especially important for large health care organizations that require a significant volume of work done on a regular basis; by employing a professional firm with an established and experienced staff, doctors, hospitals and clinics can enjoy faster service and more professional results. Individuals offering freelance medical transcription services work alone, considerably limiting the volume of work they are able to complete in a reasonable time frame. By working with a professional firm, health care providers can obtain reliable turnaround times and superior transcripts.
Trust
The most important benefit professional medical transcription companies can provide is trust. Doctors, nurses and hospital administrators can rely on the accuracy of transcripts from professional companies; this can allow them to make medical decisions with confidence and ensure the best possible service for their patients. Additionally, professionally prepared transcripts can prove beneficial in dealings with insurance companies; by coding and categorizing various procedures accurately within these medical transcripts, the insurance claim process can be streamlined.
Freelance transcriptionists simply cannot compete with the results provided by professional transcription companies. By utilizing an established and reputable medical transcription firm, health care providers can be sure that their transcripts will be accurate and that their delivery will be punctual.